SAVE THE DATE!
8th Annual Joshua Collingsworth Memorial Golf Tournament: Monday, September 19, 2016
We are expecting a sold out event this year so we are offering an early bird discount! 
If you register before August 1, 2016 the Early Bird Fee is $150 per player!
In order to the check in move quickly, we are asking for player names and shirt sizes in advance.  (You can register now to receive the discounts and add names later)
Raffle tickets for the Pebble Beach trip are available NOW!!  Please contact Blake for tickets: blake@joshuamemorial.org and 402-730-5838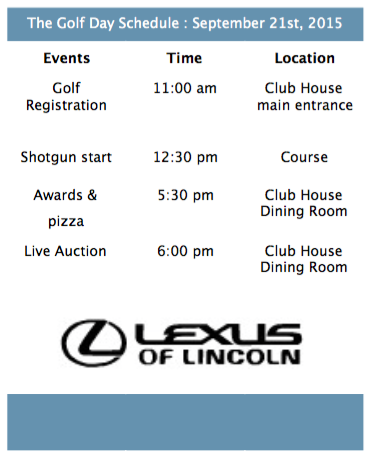 On Monday, September 19th, 2016, at the JCMF Golf Tournament Awards Ceremony, JCMF supporters will have a rare opportunity to bid once again for the chance to play at the Lexus Champions for Charity event on three of Pebble Beach's most prestigious golf courses, all while supporting the Joshua Collingsworth Memorial Foundation. Bidders NEED NOT BE PRESENT and will be able to proxy bid from anywhere!
The winning package includes 54 holes of golf over three days (18 holes per day) at Pebble Beach, Spanish Bay and Spyglass Hill courses, along with meals, cart, greens fees and transportation between local airports and the golf resorts. Transportation to and from Pebble Beach and accommodations are not included.
Lexus Champions for Charity website: http://www.lexus.com/about/corporate/philanthropy.html
THANK YOU TO LEXUS OF LINCOLN FOR MAKING THIS POSSIBLE! Lexus of Lincoln chose the Joshua Collingsworth Memorial Foundation as the recipient of their LCFC (Lexus Champions for Charity) sponsorship! http://www.lexusoflincoln.com/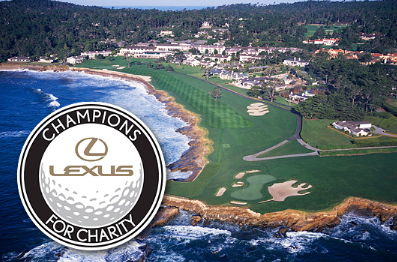 SAVE YOUR SPOT HERE! We will email you with all the registration details!